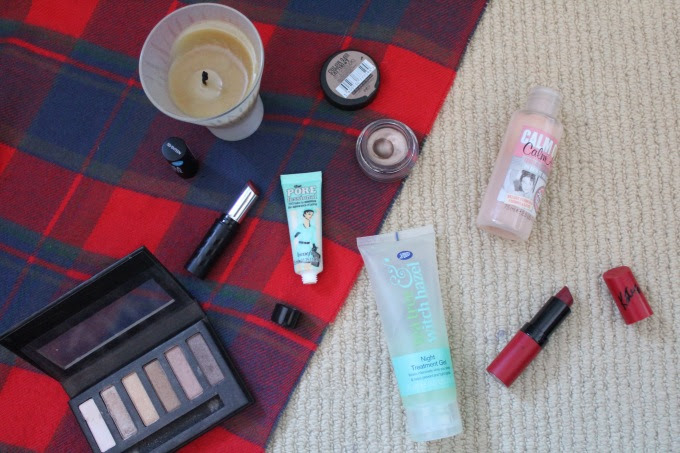 Autumn. Can we just take a moment, because YES my favourite season, and hello Jade's blog - its so amazing that she's doing a whole month of guest posts, wow! Anyway, I'm Ellie from
Ellie's World
and I'm gonna share the beauty products that you NEED this Autumn. Your purse is not gonna like this post!
Seventeen Mega Matte Lipstick in Rioja Your World
Berry lips - the one autumn trend that everyone claims to do, but do they really? Eh probably. I think berry lips look so beautiful in Autumn, yet I never seem to have the confidence to actually wear them myself. And, I'm not saying it's suddenly easy, but this lipstick is such a gorgeous dark red colour, which looks insanely bold and, chic if you think you can pull it off. Maybe in London but definitely not in my village! It's a matte finish, yet its super comfortable, and a buildable pigmentation, which is great, because it means you can ease yourself into wearing it. For £5, I would definitely recommend picking this up.
Maybelline Colour Tattoo in On And On Bronze
Its back again - the staple cream eyeshadow that I wear all year round, to be honest, but in Autumn especially I just can't keep away from it. The Maybelline Colour Tattoos have such a creamy, pigmented formula, yet they're the most long lasting products EVER. This one is the most beautiful bronze, which is my favourite shade for the colder months. This looks great on its own if you're in a rush (or, even not because it looks so effortless) or as a base for other shadows. SNAP. IT. UP.
Collection Eyes Uncovered Nude Bronze Palette
These palettes from Collection got so much hype when they first were released, but since then I haven't really heard anyone talking about them, which is a surprise, because I'm obsessed! I have the Nude Bronze Palette, and if you've read my blog for a while you will remember I used to go on, and on about this, but it's definitely worth it. The shadows are incredibly buttery, and pigmented, and are definitely comparable to the Sleek, and Urban Decay Eyeshadows. Okay, they aren't the most long lasting, but then no eyeshadow ever is on me, and with a primer they hold up pretty well. This palette contains 6 intense bronzey toned nudes, from more goldy ones to champagnes to pinky tones; every colour that would look beautiful in Autumn, in one palette.
Boots Tea Tree & Witchhazel Night Treatment Gel
Another product I am constantly recommending, because I am definitely not great at keeping to a skincare routine, or even doing anything to my face other than taking makeup off and ocassionally moisturising. How am I a beauty blogger? But this is the one thing I use without fail, not every night, but regularly (when I don't forget...) and I swear by the Boots Witchhazel stuff, because without it my skin would be so much worse. This stuff is almost magic - you put a good amount on any big or annoying spots that have decided to haunt your face, sleep, and then when you wake up they will be a lot more dry and less crazy than they otherwise would've been.
Soap & Glory Calm One Calm All
To be honest I'm really not a bath person. In the summer, getting into a boiling tub of water is not my idea of fun, unless its a hot tub then GIMMEE, but in Autumn - oooo back come the bubble baths! This is such a great easy product to just pour into your bath. I have a mini, because, of course, minis are cute. It smells amazing, quite relaxing somehow, and just makes your bath go super bubbly, and pretty - you just need bubbles, don't you?!
Just every candle ever really. Well, any nice smelling candle - that is what you need in Autumn. Those cosy days where you just laze around the house in PJs or sweaters and watch films - what else do you need? CANDLES! I never really got the hype around them properly until last Autumn, where I actually got a big candle instead of the little votives - although I do still love those! I'm yet to buy any candles this year, but that will probably change soon, so I'm somehow still burning the weird sounding, but amazing Wheat Essence that I had lit at all times last year. How it still has so much left confuses me, but I'm not complaining because its my favourite! So relaxing and nice smelling - candles for the win.
I hope you've enjoyed reading about everything Autumnal. I was worried this post would be too short, but I'm not sure why since its nearing 800 words. Thanks so much to Jade for letting me guest post on her beautiful blog. Be sure to let me know your favourite Autumnal beauty products! If you buy one thing from this post, make it the Witchhazel - it works absolute miracles!