So, yesterday myself and one of my gorgeous friends Megan decided to take a trip up to London for the day. I woke up super bright and early to ensure that I had enough time to get ready, and look as presentable as I possibly could. I hadn't been up to London in just over a year, and I had never properly explored it, even though it's the city that is closest to my heart (for obvious reasons), and so I was very excited to go and explore, especially with one of my favourite girls in the entire world.
First of all, we went to Finsbury Park from our nearest train station, and then we got the underground to Leicester Square. I wasn't surprised to see that the underground was absolutely packed - what else can you expect? It's London after all! Anyway, after about 8 stops, we eventually got off at Leicester Square. The atmosphere was insane. I knew that it was going to have that classically British feel to it from past experiences, but as I hadn't been in so long, it felt so refreshing, and normal to be back there. Similarly to the underground, it was quite busy, but that's London for you. Everyday is busy!
After walking around for a little while, and admiring the sights, we headed to M&M's world. I'd never been here before, but Megan had, and I was so excited to take a look inside. It was so cool! I love the little model people that stand there in their costumes looking all cool. We took a selfie with our favourite one..

Although we didn't actually buy anything, as it's quite pricey, it was really interesting, and fun looking at all the different, quirky little pieces. I would definitely go back there next time!
We went from one place to another, such as Bond Street, Green Park, Piccadilly Circus, Oxford Street, Covent Garden, and a few others. I really enjoyed looking at all the expensive makeup, and daydreaming over all the beautiful shades of lipsticks, and lip glosses. I didn't have that much money to spend, and so I couldn't go as wild as I would have liked to, but I'm already starting to save up for our next visit nearer to Christmas. We went into McDonalds for a cheeky little pit stop, but I didn't really like the whole idea of us having to stand at these tiny circular tables whilst eating. It wasn't the most pleasant of experiences! We eyed up all of the items in Zara and H&M, and we spent what felt like a million years in New Look, as Megan wanted to purchase a pair of heels, but she couldn't find any that she actually liked! My feet were killing me by this point - I literally felt like I couldn't move!
Now, what trip to London would be complete without visiting the Disney store? This was also something that I had been wanting to do for the longest time, and it made me so happy that I could visit it! I wasn't actually able to buy anything, as it was literally crazy expensive (we're talking £20 for one teddy.. I wanted at least 5!!), but I'm definitely going to get at least one during the next opportunity that comes up. It's actually so nice in there, and the floor is really cool, and sparkly!
I felt like a little kid all over again, wanting each and every one of the teddies on display there.
Look at how cute they are - seriously! I desperately wanted Stitch and Eeyore! A girl can dream..
Ever since it opened up a few months ago, I have been wanting to go to the Lush store in Oxford Street. I have seen it on a couple of people's YouTube videos, and I have literally been so desperate to see what it was all about. Although I have been to a lush before, it wasn't a particularly large one, but from watching videos, I knew that the Oxford Street one was larger, and it had more than one floor.
As soon as Megan pointed the sign out to me, I nearly died, and went straight to cosmetic heaven.
Walking in was an incredible experience within itself. I kind of knew what to expect, as I had seen pictures, and little tours online, but nothing prepares you for the real life experience. It was honestly incredible. It genuinely does feel like a cosmetic lovers heaven inside.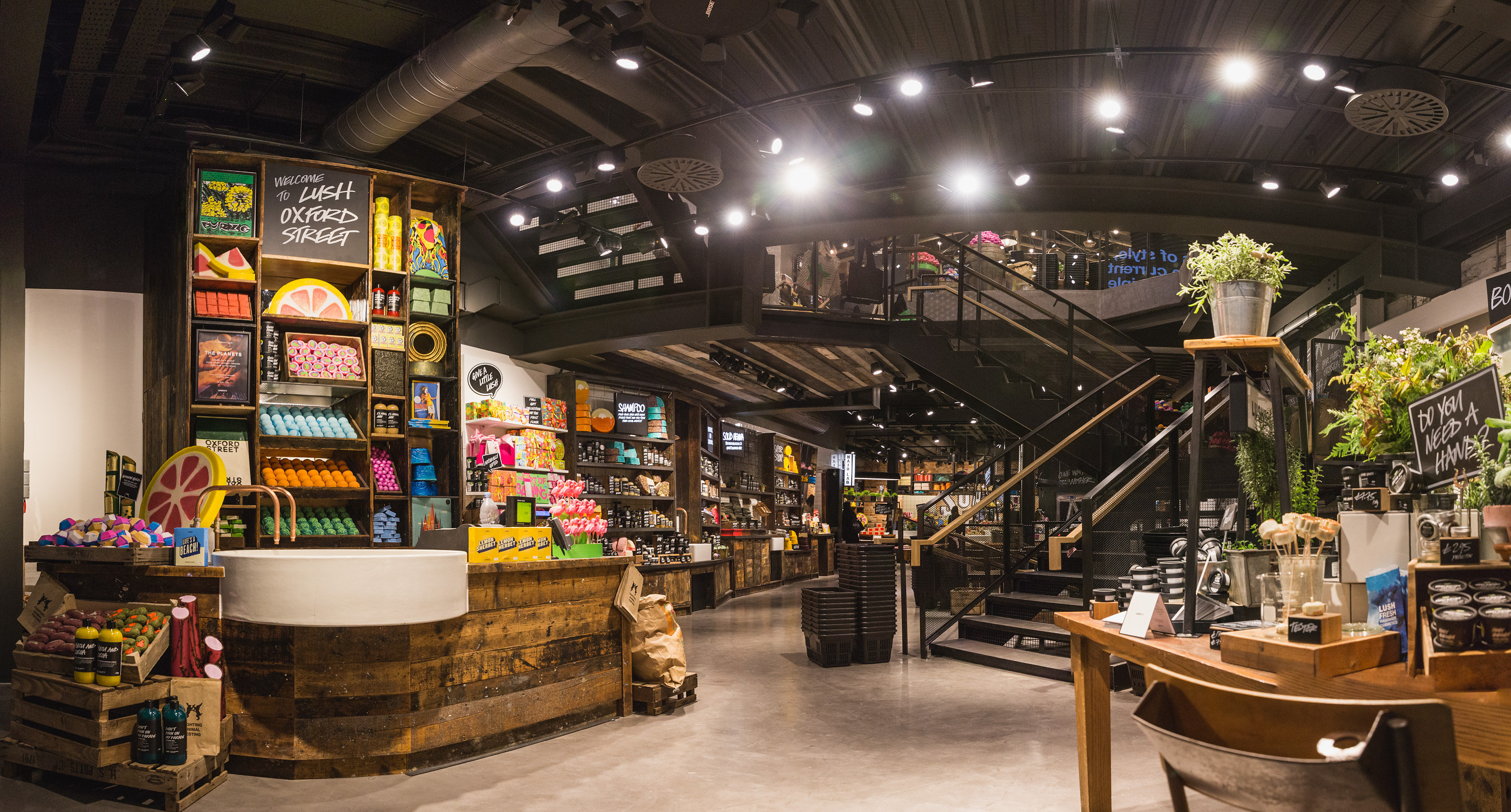 I didn't get any pictures myself, as I was far too excited, and delirious, but I have taken this one off Google. However, the pictures really don't do it justice! You need to go and see it for yourself in person if you really want a taster. A lovely lady came over and spoke to myself and Megan, and she gave us information about a selection of different products, and in the end, after much debating, she helped me to pick out the 'Luxury Lush Pud', which really is a luxury product! The image that I have included of the different colours in the bath is actually the demo that the lady did of the product itself. I used some of it last night, and it smells so lovely, and the scent does stay in your bathroom too!
There are a variety of different products available in this store, and there are also some exclusives, but considering I nearly fainted from excitement, I didn't get the chance to have a proper look.
After admiring all of the shops, we took the tube up to Westminster, just so that we had the opportunity to see some sights, and get a few infamous snaps before we headed back home.
As soon as we walked out of the station, Megan spotted Big Ben! At first, I couldn't see it, I could only see what looked to me like a palace near it, but then I worked out what she had meant, and I spotted it! When you're looking up at it, it feels like you're going to keel over, as you're leaning back to see right to the top, but it was so cool. We heard the clock strike, and all of the wonderful bells started going off all at once. It was such a cool experience, and something that I had missed since my last visit.
We couldn't leave London without visiting the London Eye first! So, that's exactly what we did. I have actually been on it in the past, and it was an incredible experience back then, but I would love to do it again next time I come up to London. It's the classic attractions like this that make me feel proud to be British. I also think the angle of this picture looks really cool, and it truly does capture the London Eye in all it's glory (check me out, sounding all posh). When you see it in person, you really begin to put into perspective just how huge it really is! Yet you can never see the people on it!
Although we got lost a few times, and we also nearly died a few times, I couldn't have asked for a better day with my favourite girl. My legs felt like jelly by the end of it, after the amount of tubes we hopped on and off of, and the amount of escalators we ran up and down, but I would do it all again in a heartbeat, and I can't wait for next time. Thank you so much for an amazing day Megan! Love you.
Lots of love,
Jade x